We will discuss how to learn Digital Marketing in Bangladesh in 2021, and it may help you be a pro marketer.
To be a digital marketer, first of all, you have to learn about digital marketing. Today's world is largely dependent on digital marketing than general marketing.
What is Digital Marketing?
Digital Marketing is one marketing system that depends on the internet, computer, mobile, search engine, social platforms, email, mobile apps, websites, etc. So, without the internet, the concept of digital marketing is impossible because all platforms of Digital Marketing depend on the internet.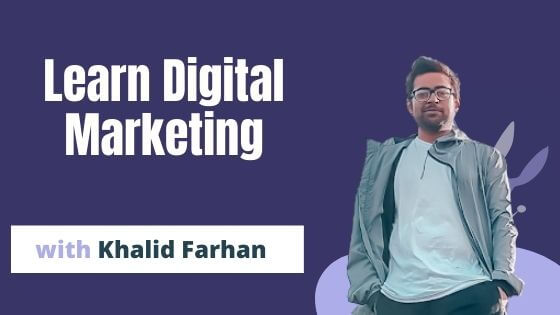 How to learn Digital Marketing?
Basically, in this internet world, it is very easy to learn any things with the help of the internet. So, you can learn anything. But you have to know what you should search for. And, in this way of learning, you need a lot of time. If you find a structured course, it helps you to learn those topics.
So, if you want to learn digital marketing, Khalid Farhan Digital Marketing Course may help you. By completing this course, you may acquire much knowledge about digital marketing.
Who is this Khalid Farhan?
Khalid Farhan is a digital marketer and previously worked as an affiliate marketer. He sold many affiliate websites for a good amount. He was an instructor at Udemy and a top-rated Freelancer at Upwork. He has a lot of followers on Facebook, YouTube, and other social media platforms.
What is included in this course?
This course is formed with multiple courses. These are given below:
Google Ad Management
FB & Instagram Ad Management
Search Engine Optimization / SEO
Graphic Design
Creating a Website With WordPress
Designing Websites With Elementor
More Courses of Khalid Farhan
If you have any queries about how to learn digital marketing, feel free to comment below. Have a beautiful journey!