It's very essential to learn spoken English in our educational and professional life as English is an international language.
From our childhood, we were starting learning English but at the end of our education, most of us don't speak English fluently.
In this globalized world, we need to communicate every single moment and most of the time, the language is English for international purposes.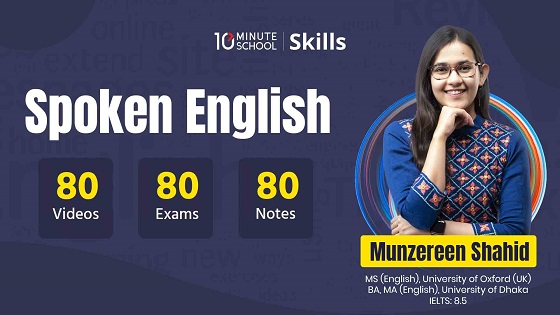 Learn Spoken English with Munzereen Shahid
If you want to learn how to speak English, this course may help you to learn.
This Course is offered by 10 Minute School and the course instructor is Munzereen Shahid
Who is Munzereen Shahid?
Munzereen was a meritorious student of Dhaka University in the English Department. She completed her B.A and M.A degree from here. Now, she is studying at the University of Oxford. Her IELTS score is 8.5
More Course: Learn Digital Marketing & Be a Pro Marketer with Khalid Farhan
What things are included in the course?
80 Video lectures
80 quizzes
80 notes
80 audio lectures
80 transcripts
1 PDF Book
Duration: 6 months
Who should join the course?
If you think, you should learn spoken English
If your friends laugh while you talk in English
If you are facing problems during the presentation
doesn't want to waste his/her leisure
want to overcome one's trouble in English while staying home.
doesn't care about Grammar.